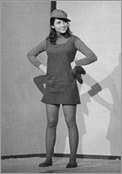 When Jan was a little girl, her mother would sit her on her lap when she played piano. She'd place Jan's hands on top of hers so Jan could feel and better experience the music. Jan had begun to absorb music's power and passion, dominant in her life ever since. Through her school years she learned how to play piano and string bass, sang in concert choirs and all-state chorus, and played in the band. She also enjoyed being in dramatic and musical productions at the nearby Pax Amicus Theater.

Jan is celebrating four decades of professional singing, having started as a teenager in a jazz trio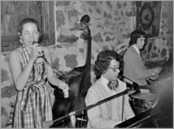 with her peers. Jan and life-long friend Ben Cassara shared singing roles and played string bass and piano respectively. They were booked regularly at a local club where the patrons responded enthusiastically. Jan theorizes that the reaction was in part "because we were just kids performing songs that we loved that happened to be a lot older than we were."

Later on, after teaching fourth graders for a few years, Jan began performing with her husband in a cleverly named duo: "Jan and Bob." She sang lead and played the string bass; Bob played guitar and sang backup.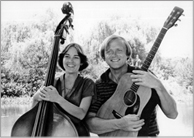 The music was a mix of genres, emphasing folk, Irish and light rock more than jazz standards. During this eight-year period they pressed a 45 rpm record of original tunes which received significant radio airplay. They were featured guests, along with Senator Bill Bradley and Rupert Holmes, on a TV show emceed and produced by radio personality Bruce Morrow, with whom they worked on several projects. They performed in nearly 100 New York-New Jersey venues,including Catch a Rising Star where they would frequently do a short musical set between comedy acts. One memorable experience was performing several songs with Phoebe Snow, whose warm personality matched her enormous musical talent. However, after eight years the frequent four-hour performances in smoky rooms began to have negative effects on Jan's voice, leading to surgery and a forced respite from singing. It was then that Jan began working in the airline industry, a career she is still in today. Bob began to pursue his interests in film and video.

However, Jan wouldn't stay away from her love of music for long. In 1987 She began singing in the Manhattan cabaret
circuit, including Don't Tell Mama, The Duplex, Steve McGraw's, and Eighty-Eights, often accompanied by current Julliard instructor Dan Cataneo on piano. Her cabaret show, entitled "Jazz Swing'n'Blues," provided Jan with the opportunity to sharpen her performance skills in front of an acutely attentive audience. Jan was thrilled to be back in her element, thriving on singing the old standards.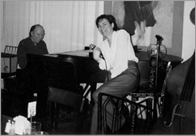 While performing one night as the guest vocalist of a big band, she met piano player and arranger, Howard Williams, a jazz and blues man originally from Arkansas. Howard had established his reputation working with John Coltrane and Woody Herman. For a few years Jan sang to his accompaniment at Robert's in Hells Kitchen. The two also performed together at such places as The Cornerstone in Metuchen and the Ritz Carlton in Philadelphia.

Howard followed his dream and formed a big band, attracting several of New York City's premier musicians drawn to his brilliant charts. Jan had the distinction of being the original vocalist with the Howard Williams Jazz Orchestra. She performed with them for eight years, the last six at The Garage in Greenwich Village. Jan and the band also performed at St. Peter's Church, Tavern on the Green, and several of Manhattan's famed street fairs. Monday nights were serendipitous for Jan,

as she had the unique opportunity to listen to, learn from, and sing with musicians Frank Vicari, Jerry Weldon, Doug Lawrence, Danny Hayes, Virginia Mayhew, John Eckert, and several other outstanding musicians. Jan soared under their collective wings. The audience frequently included sidemen like Red Hornstrom and Don Leight, who shared not only fascinatings stories of jazz in its heyday, but also introduced Jan to songs that would best suit her vocal style. This was indeed a unique jazz institute of musicianship and culture.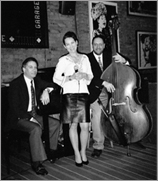 In addition to singing with the big band, Jan began performing with guitarists Art Baumgarten and Ernie Fortunato. Although this was a valuable experience, Jan came to realize that she preferred to work with a more traditional jazz trio. She soon met Brooklyn-based Jay D'Amico, a talented and versatile jazz pianist. It took only a few club dates with Jay and his bass-playing brother, Greg, to confirm that this was a good mix, professionally and personally. They performed regularly at The Garage for several years, as well as Shanghai Jazz in Madison with Jay's Trio, which included drummer Vinnie Favata. They also booked an occasional concert and private party. Jay's arrangements inspired Jan to hear new interpretations of jazz classics. He made it possible for Jan to absorb the intricasies of jazz just from listening to and working with him. Jan's CD, "Old Devil Moon," was recorded with Jay's Trio, a natural outgrowth of a most rewarding musical experience.

In 2005, after singing nearly exclusively in Manhattan for almost two decades and averaging two

performances a week, Jan's musical life once again became centered in New Jersey. Jan's a lifelong Jersey girl. She soon discovered a wealth of musical talent and has enjoyed performing with many musicians, including Jerry Vezza, John Carlini, Keith Ingham, Brian Chapman, Bob DeVos, Roy Cumming, and the late Steve Freeman. Now her band of choice is comprised of Tomoko Ohno on piano, John Zweig on guitar, and Rick Crane on bass. All are New Jerseyans who are well-established and highly regarded musicians in the New York-New Jersey jazz community and beyond. Together they find their joy in performing "The Great American Songbook" and a variety of jazz and blues selections. Although singers usually get top billing, Jan likes to consider herself part of the group, her voice being her instrument. It's all about sharing music with each other and the audience. It's about friendship. It's about fun. It's about the music.